Separate creativity - aka working on other kinds of creative endeavors separate from writing. I am positive this has been lacking in my life. I have been struggling to find peace and quiet in my mind, aka the ability to zone out, and it finally clicked in my head that most all the writers I know do other things as well that capture other areas of their creativity.
Though I love all my knitterly and crochetery friends, that is something that my hands just have never been interested in doing. Instead, I will be quilting. I've bought all my material (this is not going to be a cheap project, for sure, but it is for my bedroom so that is okay), and the pattern, and all the supplies I need to do it. I originally envisioned hand-sewing this but screw that. I'll save that for the other quilt I really liked. :) So warning - there will be much ahead about this quilting adventure I am starting!
Just look at this thing!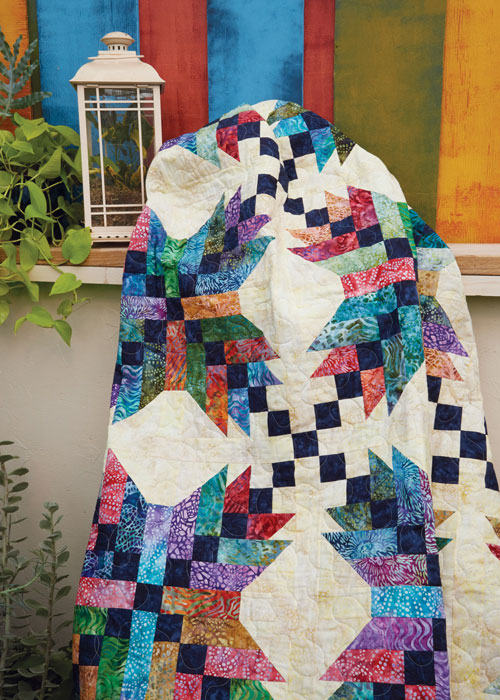 I also started to play Skyrim. I needed/wanted just something to truly immerse into, and I tried a couple other games but this is the one that steals me. I am playing a Breton named Jayanti (one of the characters from my book) and having a blast. My son is enthusiastic too, giving me hints of things to do and try out. Mostly I am just wandering around doing the basic plan, but will take my son's advice and go for the Thieves quest thing. I'm only playing on the weekend though. No time during the weeknights. Oh, fantasy! Skyrim incorporates all the best - dragons, warriors, mages, evil beasts (I really don't like having to kill the wolves though), and puzzles, and I just like it.
Writing-wise things went pear-shaped-crazy but everything has smoothed out, and I have a plan which, oddly enough, was what I had initially meant to do with this story: a trilogy, the first one strictly Aneli's POV, the second adding Kharis' POV to Aneli's, and the third _______ (haven't decided her name yet lol), with all three, and wrapping it up.
I will take the original, old fantasy (that yes, I took back out of Aneli's) and finish it for myself, maybe post it eventually via Patreon. It is another side of this tale, but adding it to Aneli's story pretty much killed my dream (that I lost sight of for some reason) of writing a girls' adventure fantasy. I am back on track and having a blast. I am writing it as YA, but honestly, it is already at 130k with a good 7-8 chapters to go. The rewrite will determine whether I will go ahead with it as YA (and thus traditional publishing) or say screw it, write the other two, hire a Damn Good Editor to go through all three, and self-publish. I am in no rush. Right now it is the journey that I am in love with, not being published again.
I have a ton of platy babies in my tank and they are so adorable, I don't want them to grow up. They finally got big enough to put with Waldo without worrying he would eat them.